Best Spray Paint for Rims – 2023 Reviews, Buying Guide & How-To's
Do you know you can have BRAND NEW car rims without having to actually buy new ones?
With the best spray paint for rims, you can totally transform your old and rusty ones to look the way they did when you first bought them (or almost!)
Spray painting is an easy-to-do DIY task for restoring your wheels' original radiant looks without investing too much money.
Today, we're going to help you make a quality decision when shopping for a car rim paint by introducing to you some of the top models.
Dive in to know the pros and cons of the highest rated car rim paints including Plasti Dip, VHT, and more.
Need a quick decision? Here's my Top 5 Spray Paints for Rims picks:
| | | | |
| --- | --- | --- | --- |
| | | | |
| | | | |
| | | | |
| | | | |
| | | | |
What Kind of Paint to Use on Car Rims?
Ever used regular paint on your car rims? How did the application come out? Not very good, right?
Well, you cannot use just any paint on car rims. That's because regular paint will leave swirl marks, lint, globs, and other effects you don't want to see on your rims.
If you're looking to recreate that nice factory paint job that is smooth, consistent and with the finish and color you have in mind, then you need a spray paint specially created for automotive rims.
The following section is meant to help you find the best wheel spray paint that will work for you.
We've written on the features, benefits, and shortcomings of some of the highest rated car rim paints on the market. We're sure you'll find the review helpful.
Read on.
Our Top 15 Best Spray Paint for Rims Reviews
1. Plasti Dip Rim Kit
Imagine getting four aerosol cans of paint, two aerosol cans of glossifier, and a can gun, all for less than 50 bucks!
If you're on a budget and you need a steel or aluminum wheel paint kit that offers you the finest quality at the lowest price, this is your ideal pick.
One amazing fact about plasti dip is that it's a rubber-based coating. Thus, if you make a mistake, you can peel off the application relatively easily, something you'd have a hard time achieving with other types of coating.
You might be wondering whether the coating will hold up now that we said it can be peeled off. Well, the paint holds onto the surface really nicely and again, it's non-slip.
As it is exceptionally flexible, it doesn't grow brittle or crack when the weather conditions are extreme. As a matter of fact, it works well in a wide temperature range of between -30 and 200 °F.
The black paint gives you a nice matte finish, and the glossifier gives an elegant glossy finish that makes your rims appear as though they're brand new.
The Plasti Dip Spray Paint creates a coating over your rims, actively protecting them from acids, moisture, and other elements that cause corrosion.
Since there's a glossifier, you needn't get wax to put over the paint coat to produce that shine. This will help you save some money.
The included can gun is sturdy, and it helps complete the work faster.
Any issues? Nothing apart from the fact that the paint is not pitch black. So, if you're looking for a super dark paint, this might not be the one for you, but if you just need something black, it will be a great pick.
Go on and see it on Amazon.
Highlighted Features:
2. VHT ESP734000 Gloss Caliper Paint – 11 oz

When looking for a spray paint for your brake calipers, ease of use, coverage, and looks are everything. And guess what? That's exactly what the VHT ESP734000 Gloss Black Paint is about.
This spray paint comes in 10 of the most common brake caliper colors, including bright blue, cast aluminum, gold, and stain black.
It also comes in three style variations – coating, cleaner, and finish, so you can get exactly what fits your needs.
The reason as to why we chose this spray paint is that its colors are really good and high quality. In that regard, the paint settles nicely and smoothly; you'll think it's an OE paint job.
The area around the caliper is exposed to high heat levels, and if you use cheap paint, it will end up peeling and fading. The reason why the VHT Caliper Paint is preferred by automobile owners is its heat resistance capability.
It resists temperatures of up to 900 °F. So, it's not affected by chipping, peeling, cracking, and any of the heat-related issues.
Also, it applies easily and seamlessly, and in just half an hour, it's dry to the touch, and after 2 hours of curing, the calipers are ready for installation.
As mentioned, the coverage is awesome. With just one can, you have enough to spray two calipers.
So, with just 2 cans, you get to give all four calipers a great new look.
The most amazing part? One can goes for less than 10 bucks, so you're going to spend less than 20 bucks in total.
Any cons? Yes – you need to apply some clear coat on it to prevent the paint coat from absorbing brake dust, which can cause fading.
Other than that, it's a great versatile product that can be used not only for brake calipers but also brake drums and rotors.
Highlighted Features:
3. Dupli-Color Perfect Match Automotive Paint – 8 oz

Picture having more than a hundred colors and finishes to choose from. Yep, that's what the Dupli-Color Perfect Match Automotive Paint offers you.
No matter what color or finish you want to put on your rims, you can be 100% certain that you'll get it with this paint.
Whether the goal is to match the exact OEM color that the rims came with or to experiment with a different one, this best spray paint for wheels. Its ease of use is incredible.
The can is fitted with the EZ touch 360 nozzle, which ensures the paint comes out seamlessly. The innovative nozzle design also reduces the amount of effort needed to get the paint out.
A fast-drying paint is always a good option. This one dries in just 30 minutes, and in the next one hour, the coating is all cured and ready for handling.
The ability of the spray to get on the surface smoothly and evenly is yet another perk you're going to love. The results look pretty fantastic if you know how to paint a rim.
Just apply 3 coats over the primer and then apply 2 clear coats. Don't forget to shake up the can for 2 minutes or so before spraying to loosen the substance and prevent clogging.
Any issues? Yes – the paint that comes out when the can is nearly empty is rough and worthless. This leads to wastage. On the brighter side, the coverage isn't bad, and with just 3 cans, you get to do all four rims.
Again, the can is inexpensive, going for just around 8 bucks.
Highlighted Features:
4. Rust-Oleum High Performance Wheel Spray Paint – 11 oz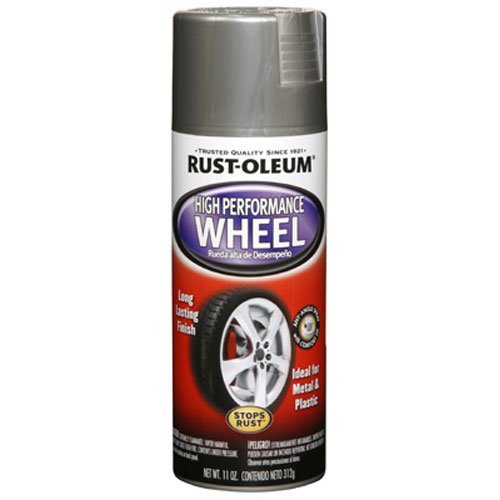 One big issue that we deal with as car owners is rust. Rust can transform your beautiful rims into an eyesore, and that's why a rust-fighting product is so essential.
If you seek the best paint for aluminum rims that's also a powerful rust guard, you may want to check out the Rust-Oleum Wheel Spray Paint.
Yes, paint is generally good for preventing rust, but this product goes beyond simple rust prevention. It's super resistant to water and other elements that cause rust and corrosion, hence keeping your rims protected for a long time.
Another reason why you're going to love this weather-resistant hubcap and rim paint is the coverage and ease of application.
It goes on smoothly, and each can has good coverage. If you're painting the entire rim, including the front and back sides and inner barrel, just one 11-oz bottle will be enough.
Do you know that you don't even need a primer when using this? The paint has excellent adhesive capability. It grabs your surface and stays on there for years without a primer. That means less money spent and less work needed.
And the coolest part? The paint can be applied to both steel and aluminum. It also works on plastic hubcaps.
The first drawback is that there are only 4 color options – steel, matte black, clear, and graphite. Secondly, the matte black spray is more glossy than matte.
Apart from these shortcomings, this is a pretty nice car rim paint.
Users have referred to it as the best paint for aluminum wheels.
Highlighted Features:
5. VHT SP187 Wheel Paint – 11 oz
Every time you take your car on a ride, the wheels take a beating from lots of harmful elements. Sand, brake dust, and heat are just a few of them.
To keep your wheels looking good, you need the best spray paint for car rims that will effectively resist the harmful elements.
The VHT SP187 Wheel Paint is uniquely formulated, and unlike most paints, it doesn't fade, crack, or cheap for years.
VHT stands for 'very high temperature'. The formulation is such that the coating withstands temperatures of up to 900 °F!
If the coating is properly cured at temperatures of 250 °F, the heat resilience will be incredible, and it'll go a long way in helping the coating last.
Ever had to sit and watch rims for hours waiting for them to cure? No more waiting. The VHT paint dries to the touch in just 30 minutes. From there, you can heat-cure it or leave it to dry overnight.
This paint's effectiveness is incredible. The paint sprays smoothly and settles nicely on the surface to a beautiful, uniform coating.
Any issues? None so far.
The paint is available in 8 different color and finish options and 2 style options.
The price is right where most people want it to be, at around 8 bucks. Go ahead and see it on Amazon.
Highlighted Features:
6. Dupli-Color HWP104 Wheel Paint – 12 oz
Looking to give your car a highly reflective metallic finish without spending too much cash? Get the Dupli-Color HWP104 Wheel Paint. It's a 12-oz aerosol paint that goes for just about 8 dollars.
There's also the option of getting 6 of them in a pack that costs just around 40 dollars.
You also get to choose your preferred color from a list of 10 popular colors, including silver, white, gold, gloss black, and more.
The thing about this paint is that it's super resistant to chemicals and brake dust. As such, it keeps your wheels looking great for over a year.
But what you will love most is the effectiveness of the product. If you apply it correctly, it produces a nice glossy coat. People will think it's OEM because of the smoothness and flawlessness.
Ever had to deal with cheesy plastic buttons in the name of a spray nozzle? They're a real pain, aren't they? Well, the Dupli-Color HWP104's nozzle is different.
It's a high-grade nozzle that makes spraying an easy and fast process.
The only problem with this paint is that it's thin and a bit runny. You might want to apply it in horizontal moves to minimize the runs.
Again, because of the thinness, you have to apply a good primer and apply a clear coat on top.
Aside from those issues, the Dupli-Color HWP104 is a great wheel and bumper paint that produces really awesome results. Plus, it dries quickly, in just 30 minutes.
Highlighted Features:
7. PlastiKote 620 Semi-Gloss – 12 oz
So you want something that's neither too shiny nor totally dull? The PlastiKote 620 is a perfect in between aluminum and alloy rims paint. It'll give your car rims the nice semi-gloss finish that you're looking for.
This paint comes in four common colors to choose from. There's black, charcoal grey, steel, and silver argent.
What we loved about it is that it's highly efficient. It does a good job covering those scuffs and chips and leaves the rims looking brand new, like they're right out of the OEM factory.
The spray is also easy to use. The nozzle is ergonomically designed, so you don't apply too much effort spraying the product. And, the spray is uniform and without globs or too much residue.
Worried about the drying time? Don't be. The paint is fast drying. In just 10 minutes, it's already dry to the touch and ready for handling, though we'd recommend waiting for at least 30 minutes for a more durable finish.
The coverage is also nice. This is one of those paint products that minimize wastage. Just 2 cans are enough for all four wheels of average size (17 inches).
If you're looking for a truly durable paint that will keep your rims protected for over two years, this product is for you. It creates a sturdy finish that prevents scratching while keeping rust at bay.
The only complain so far is that the spray top isn't a good fit.
We hope they rectify it but all in all, it's not a deal breaker because it's the paint we're interested in; not the top.
The paint applies well and has really professional results.
The can goes for around 15 bucks on Amazon.
Highlighted Features:
8. Multi-Purpose Rubber Coating Aerosol - 11 oz
One of the most striking aspects of this product is that it is very easy and convenient to use, anytime and anywhere. This is further amplified by the coating, which, unlike other products, is very easy and straightforward to peal off right when it is ready.
Moisture and abrasion can cause irreversible damage to surfaces and walls. It is thus very important to ensure that the coating can keep moisture and abrasion at bay. This product does more than that, as it resists all of the above and fights off corrosion as well.
Sometimes, vibration and shock can also be a big reason behind damage. This product negates that by acting as a shock and vibration absorber. Hence, a high level of insulation is also provided, enabling less vibration to pass through.
While most coating will crack and break after a few weeks and need to be reapplied, this one is a class apart. Even in the harshest of weather, it will not change its shape and will be smooth, flexible, and retain its stretchiness at all times.
The surface underneath it is well insulated and protected from exposure to elements such as water or ice.
Highlighted Features:
9. Rust-Oleum 7214830
It is quite challenging to find a product that is tailored towards metals in particular. Metals can be tricky to work with, as you never know which substance can end up causing more harm than good.
Similarly, due to their varied composition, not all sprays and coatings work equally well on them, leading to a frantic search for suitable coatings.
This product, however, is made especially for metals, meaning you can apply it on railings, beams and handlebars, and more. Hence, there is no need to worry about compatibility anymore.
The weather can be very unpredictable at times, making it difficult to know which coating will be right for the job. This product, however, bypasses the threats of any type of inclement weather. It is fully resistant to rust, and the durable protection extends to moisture as well.
Be amazed in a matter of hours with the newly renovated surface, and bask in the appeal of the spray paint, which adds a whole new look to your applied surface. All this is possible in a matter of 2-4 hours, no less. By covering up to 15 feet, it is quite impressive that this product has such a short drying time.
Imperfections can be a real pain for people who work with masonry, stone, and concrete. This product, however, is a real boon for those who continue to be plagued by various imperfections in their surfaces.
The rugged look will help to eliminate the threat of imperfections and restore that pristine look to any surface it is applied on.
Highlighted Features
10. Chemical Guys CLD_201_16
This is a product that can be used to clean a wide variety of surfaces. From your standard household tools, machinery, wheels, tires, and engines, there is nothing this product cannot clean competently.
Made with citrus-infused and composed formula, it is a line of highly advanced detergents created for the best cleaning effect. The citrus recipe works amazingly well for most types of stains, dirt, grime, grease, and even mud. All you need is a spoonful of this product mixed in a bucket of water, and you are good to go.
One of the best aspects of this product is that you can modify the composition you please. While most cleaning reagents come in a rigid setup and formula, whereby altering the composition will reduce the efficacy, this one is in stark contrast to all of those.
If you feel you need less of it, you simply dilute it with a suitable amount of water and get cleaning. This will in no way reduce its efficiency or cleaning power, and you will still get the desired outcome.
Another amazing feature of this product is that you can use it in a wide range of vehicles and vehicle parts. While many degreasers are limited to cars, this one actually goes a lot further.
Now, you can even work on motorcycles, snowmobiles, sport bikes, scooters, and so on. This gives you the option of using one product for all.
Highlighted Features
11. Rust-Oleum 248936 Automotive 12-Ounce
This is a product made for excellence and service. And to top things off, it is created in the USA, meaning it has been composed by the top experts in the field of machine maintenance and repair, making it a must-have product.
Its durability is another feature that sets it apart from its peers and competitors. Once you buy it, there is no need to worry about constant changes and refills, as the 12 ounce can is more than enough to last you weeks on end.
Oil spills, grease, rust, and humidity can cause a lot of damage to any machine, machine tool, or equipment in general. The good news is that this product has been made to fight against all those elements and protect the sprayed surface from further harm and damage.
Nothing complicated about this product; it is as easy to use as they possibly come. With a tip spray nozzle, you can aim to pinpoint accuracy on the region you want to spray and then watch the magic unfold. This tip nozzle helps minimize wastage, excess spraying, and direct the spray jet to the exact point of interest.
Highlighted Features
12. Rust-Oleum 340561
Who can even pass on an aesthetic and glossy touch to their sprayed product and surfaces? The appeal is a big part of the game, and this product delivers in that area. Its ultra-glossy finish ensures a very unique and vivid look to the surface and makes it stand out.
We all hate waiting for the paint to dry, and in some cases, a few hours of waiting time can seem like several days on end! However, you will not encounter such an issue with this product, as the drying time to completion is only a measly 10 minutes.
Yes, you read that right. In 10 minutes, your sprayed surface will be ready, with a more lively look and better strength.
Preparing a surface for spraying can be the worst. It is time consuming, painstaking, and requires a lot of work. With this product, all of that is eliminated. This spray paint requires no special pre-treatment before application: meaning, no base or filler, just the paint itself.
You can apply it whenever you want, anywhere and anytime.
Car rims are notoriously tricky to paint. They require a fine blend of color to stand out, and if you miss a spot, it can throw its entire appeal off. This product is made for car rims. It will give the rims a very chrome-like luster, something that everyone wants but is difficult to achieve.
Highlighted Features
13. Dupli-Color Shadow Chrome Black-Out – 11 oz
Many folks have called this the best chrome spray paint for rims. According to many of these folks, the Dupli-Color Shadow Chrome Black-Out is the perfect choice for a black high-gloss finish.
It's true that the product is effective and has really good results, but it comes with some shortcomings. Before we talk about the shortcomings, here are the features and benefits.
The product is actually a small rim paint kit that comes with two cans – one can of chrome black-out coating and another can of a top clear coat.
The translucent black-out paint creates a dark tint over your chrome wheels.
This coating is highly resistant to brake dust, fading, chipping, and other issues that would otherwise cause damage.
The top coat, on the other hand, offers the needed gloss while adding a little more protection against elements. It ensures the paint coat keeps looking good.
Here comes the shortcomings. First, the paint has trouble settling to a smooth finish. Taking a close look, you might see lint traces. On the brighter side, you'll likely not see any of these imperfections looking from afar.
We recommend you do an intense prep job before painting to make the paint come on more smoothly.
Another issue is that the application doesn't hold up to chemical spills. Accidental gas spills will remove the paint, and that's not good news.
The manufacturer says that you apply 2K Urethane Clear to make it resistant to chemical spills.
Highlighted Features:
14. Performix Plasti Dip Spray – 11 oz
Do you have Plasti Dip on your rims? Are you looking for a way to enhance its look and make it last longer?
The Performix Plasti Dip Spray is here, and it comes packed with benefits.
This paint enhancer comes in two different forms/finish options – the graphite pearl metalizer, which delivers a truly amazing metallic look, and the kaleidoscope chameleon.
So what are the benefits?
You know how paint becomes brittle and cracks in extreme temperatures? The Performix Plasti Dip Spray is formulated to prevent that. It keeps your rim paint looking great in extreme temperatures.
The product applies really well. It looks super smooth and pairs nicely with the plasti dip.
When you've applied it over the paint, you can finish by applying a Glossifier layer to produce a good shine.
We really loved the coverage of this product. With just one bottle, you can do almost 3 rims.
You only need two or three coats of the product, and you'll have transformed them completely, making them look much better and hold up stronger and longer.
The ergonomics are also superior. The nozzle features a great design, making it super easy to spray the product.
Any issues? There are none so far. Even the price is at an affordable level. Around 13 for the graphite pearl metalizer and around 30 for the kaleidoscope chameleon.
Go on to Amazon and see the many praises that people have for this product.
Highlighted Features:
15. Superwrap Sprayable Vinyl Wrap Kit
Are your rims faded and you're looking for a product that will restore that elegant shine? You stand to benefit greatly from the Superwrap Sprayable Vinyl Wrap Kit.
This is a vinyl-based formulation with exceptional power to restore the gloss on your car rims. It leaves a smooth and shiny finish that lasts more than a year when applied properly.
For those who want an all-in-one rim paint kit, this is it. It gives you 6 vinyl wrap cans and a gloss top coat so that you needn't apply a clear coat or wax afterwards.
Furthermore, when starting, you don't need to go through the trouble of making a prep solution; a prep spray is included in the kit.
What color do you want to put on your rims? There's a high chance that whatever color you have in mind, Superwrap has got you covered. On their Amazon page, you get to choose from more than 20 colors!
The colors range from silver and gun metal to Santorini blue and gloss black.
What we loved most about this spray is that the finish looks amazing. Can you believe it looks better than plasti dip? Yes, if you're looking for something better than plasti dip, then you got to try this one.
Another amazing benefit is that the paint is easy to peel off. You can remove the rim's paint coat in 5 minutes or less. This is incredibly helpful when you want to change the paint or when there's been a mistake, and you want to do the paint job again.
The shortcoming with this product is that you have to respray the gloss every three to six months to keep the rims looking nice and shiny.
But, spraying the gloss is a fast process, and you'll be done in under 5 minutes per wheel.
Highlighted Features:
Things to Consider Before Buying a Spray Paint for Wheels
When looking for the best spray paint for wheels, there are a couple of considerations to make.
In this part, we're going to share with you the criteria we used or rather the factors we considered to identify easy to use, effective spray paints for rims.
Delve in.
Ergonomics and evenness of the coating
These are, perhaps, the most important factors to think about when looking for a spray paint for your rims.
You want a spray paint can that's well designed for spraying. The nozzle should be high quality, and you shouldn't have to press too hard to get that paint out.
Some top brands even provide you with an EZ touch nozzle to make your work easy while ensuring the paint comes out seamlessly.
The paint ought to be able to adhere well to the surface and settle evenly and smoothly. You don't want globs or residues as these can ruin the finish; you want a smooth application.
Another thing to think about is the thickness of the paint. It shouldn't be too thick that it clogs the can and it shouldn't be too thin that it runs and becomes hard to control.
Drying time
When painting the rims, there's one important rule we follow – let each coat dry before applying the next one.
That means the drying time plays a key role in determining how long you're going to take painting the rims.
We recommend, therefore, that you look for a paint with little drying time.
Another consideration you got to think about is the curing. Some paints take just a few hours while others take over 24 hours. Also, some need heat to cure while others are fine without heat.
Color
Paints are available in a myriad of color and finish options. Examples of common paint colors are black, blue, white, and gold. Some finish options are high-gloss, semi-gloss, matte, and silver.
Look at the paint's specifications and see if it fits what you're looking for.
Other things to think about include:
How to Spray Paint Car Rims
If you're looking to give your ride a new look, one of the quickest means you can use is to paint the rims. But if you want professional results that will give the rims a new OEM look, you've to apply the paint correctly.
Below, we're going to show you the best way to paint aluminum wheels as well as steel or alloy wheels.
Dive in.
Step to follow:
1. Get The Materials
You need:
1. Wheel cleaner or soap solution
2. Paint remover – you could use rubbing alcohol
3. Grinder or drill with a wire brush attached – you could use a normal wire brush or sandpaper or steel wool
5. Index cards for covering the tire – you could use newspaper
2. Choose a Location For The Job
You need a well-ventilated area, preferably outdoors. Do it when there isn't rain and when the humidity is minimal. The temperatures ought to be 60 to 80 °F.
3. Remove The Wheel From The Car
Jack up your car and remove the wheels whose rims you're repainting. Whether you're going to remove one or all wheels, make certain your vehicle is well supported and that the emergency brake is engaged.
4. Clean The Wheel
If you're to get a good paint job, then you have to prep the wheels properly, and that means cleaning them thoroughly.
Begin with the wheel cleaner or soap solution. Spray it generously over the rim. After that, use the rags to clean out all the dirt and grease.
When done, rinse well with water (a hose will be very helpful). Use the dry rags to dry the wheel completely.
5. Remove The Rust and Old Paint
A smooth paint finish depends on a good and smooth primer coat. If there are old chips or rust, you won't have a smooth paint job.
If there's still paint on the rims, use a chemical paint remover the Dip Dissolver to get it off. You just have to spray, wait a minute or two and blast it off with a pressure washer.
There are 4 options when cleaning the rust. You can either use a hand wire brush, sandpapers of different grit sizes, steel wire, or you can go the easiest way of using a wire brush attached to a grinder or drill.
When done, use the rags and water to get off the residue.
You should now have a smooth, paint-free, rust-free rim ready for repainting. If there are blemishes, remove them with sandpaper or steel wool or use the wire brush.
Ensure the wheel is dry before moving on to the next step.
6. Apply Over Spray Protection
To prevent the tire from the primer and paint, apply index cards or pieces of newspaper over it. Stick them in the space between the tire and the rim and cover off the tire with a plastic paper bag like a garbage bag.
Cut off a finger from a hand glove and use it to cover the valve stem.
7. Apply The Primer
The purpose of applying the primer is to create a nice surface for the paint to adhere to. It also helps prevent rust.
Get your primer spray and apply at two to three coats.
8. Apply The Paint
Hold the can away from the wheel and spray.
NOTE: holding the can too close while spraying will cause the paint to run. Check the can for the distance recommended by the manufacturer.
Apply the number of coats recommended by the manufacturer.
NOTE: let each coat dry completely before you apply the next coat.
9. Seal It
Sealing is done with a top coat. The top coat might also serve the purpose of adding gloss.
Remember, you should give the previous coat time to dry before applying the top coat.
Once you're done, give the top coat enough time to dry (30 minutes perhaps) and then remove the overspray protection.
At this point, you should have a nice-looking paint job on your rims with a smooth finish.
How to Remove Spray Paint from Rims
If the spray paint on your rims is starting to look worn, or you just want to give the rims a new look, it's time to remove the paint.
The removal method depends on what sort of paint you have on your rims. Some paints can be peeled off, and others need to be scraped or treated with chemicals.
While peeling might seem like fun, it can be time consuming.
The best method to remove paint from your car rims is to use a corrosive chemical that loosens the paint so you can easily brush it off or spray it off with water from a pressure washer.
Here Are the Steps to Follow:
Alternatively, you can mask off the break mechanisms with a garbage bag or another plastic bag to protect them from the paint stripping chemical. Just drive the bag through the spaces in the rim and ensure the brakes are well covered.
We recommend using the Dip Dissolver as it is 90% active ingredients and has awesome power to dissolve the paint. It works in minutes and is especially effective for plasti dip paints.
Alternatively, you can use the Aircraft Paint Remover, which also works beautifully on most paints.
NOTE: Before spraying the paint remover chemical, you should ensure the surface is dry. A lot of people make the mistake of using it on a wet surface, leaving the water to dissolve the chemical and render it less effective.
NOTE: You want to execute the task outside in a well ventilated area. Avoid inhaling the mist also.
A minute or two should be enough to dissolve the paint, but we like to scratch the surface with a stick gently to see if it's ready for blasting with water. If we can see the rim through the line left by the stick, then we know the surface is ready.
NOTE: Don't go in too soon before the chemical has loosened the paint and again, don't wait until the surface is dry. Timing is really important here.
As you'll see, most of the paint will come off. For the parts that remain, what you need to do is apply the Dip a second time and blast it again.
Remember, water can ruin the power of the chemical, so give the wheel enough time to dry.
The second round should do it, but in rare cases, you may have to repeat the process a third time.
That's it, folks. Let's now see what you need to think about when purchasing a spray paint for your rims.
Frequently Asked Questions (FAQs)
What is the best wheel paint for aluminum rims?
Try the VHT ESP734000 Gloss Caliper Paint. It comes with a cleaner, coating, and finish. It's also available in different color options to ensure you have precisely what you're looking for. See its details on the review.
Another model that many people have called the best wheel paint for aluminum is the Rust-Oleum High Performance Wheel Spray Paint.
Whatever you use, ensure you apply a good primer to provide a good adhesive surface for the paint.
How much does it cost to have my car rims painted?
That will obviously depend on the car detailing joint you go to. However, most joints charge over 400 bucks to have all four rims painted. Some joints charge over 1000 dollars.
Considering these huge costs, it's better to go the DIY way. Purchase the best spray paint for aluminum or steel or whatever metal your rims are made of, and then apply the paint yourself.
It's a really easy DIY task and a little fun too, and the average amount you'll spend on the primer, cleaners, paint, and top coat is 100 dollars. That's way cheaper.
How much time will I need to paint car rims?
The process includes cleaning, priming, and painting. The best spray paint for rims, such as the Plasti Dip, will need 30 minutes gaps between layers to give them time to dry before applying the next coat.
Supposing you're doing 5 coats (including the top coats), that's 50 minutes for applying all the coats and 120 minutes for the gaps.
Let's say you spend an hour preparing the rim for painting.
That's a total of 4 and ½ hours.
We recommend doing it over the weekend, so you have enough time to do all the four rims.
How many cans do I need per wheel?
That will depend on the specific spray paint you're using as well as the size of the rim and the capacity of the can. For instance, the 11-oz can of VHT ESP734000 Gloss Caliper Paint is enough for completing two rims.
What is the drying time for Plasti Dip Spray Paint?
Plasti Dip becomes dry to the touch in just 30 minutes.
How do I know my car wheel size?
Knowing the wheel size when looking for a spray paint for the rims isn't really a necessity, but it helps because it tells you how much rim spray you'll need.
On the tire, you'll see a number like P275/55R17. That last figure "R17" is the one you're interested in. It means you're dealing with size 17 tires.
Final Word
Whether you're looking for the best paint for aluminum wheels or chrome wheels or even steel wheels, we trust that you found a product on the review that works for you.
Spray paints come in different colors and finishes, so be sure to choose exactly what you need.
And remember, the paint won't adhere well or have a smooth finish if you don't prep the rims properly. The informative part above contains a section on applying spray paints correctly; be sure to have a look and follow the guidelines.
Did you find this article useful? Share it with your friends.