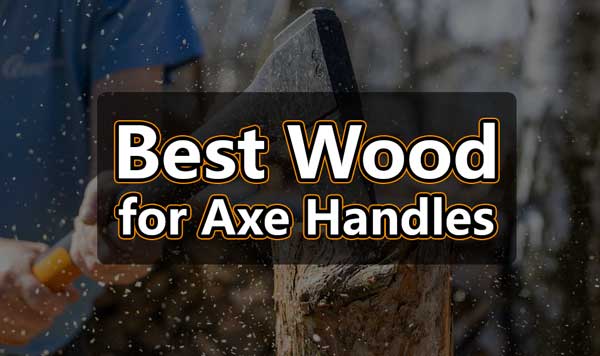 Best Axe Handle Wood Reviews and Buying Guide 2023
Want to know a secret about Axe handles that last? Well, here's one: the best Axe handle wood offers features like strength, or durability, or both. You just need to know which wood gives you the feature that is the most important to you. What do I mean? Let me show you.
Wooden Axe handles are made of different wooden materials. For instance, some woods used for Axe handles are Hickory, White Oak, Hard Maple, etc. But, here's the deal. These woods benefit their owners differently through the features they offer.
Some offer only strength. Others offer a combination of strength, durability, and flexibility. To save time, let me guide you through the Axe handle selection process. I would also review the best wooden Axe handles around.
Let's dive right in.
Our Top 6 Best Wood for Axe Handles
1. CRKT Woods Chogan Tomahawk and Axe
If you are looking for a ride or die wilderness Axe buddy, then you should consider the CRKT woods chosen Tomahawk Axe. Trust me when I say that this Axe handle is a great buy for the wilderness.
Designed by Ryan Johnson, it takes one down memory lane of the Tomahawks. It was used by North American Indians as a weapon to protect themselves. So, this Axe is not just a camp firewood cutter. You can protect yourself with it.
For that, we say, well done Ryan. This Axe idea was beautifully executed.
What's the best part? It's the wood material and the two in one Axe and Hammerhead. Let's start with the Axe handle. With a pure knack for quality and style, Ryan forged the handle from pure Tennessee Hickory wood. Hickory is regarded as the best wood for Axe handles.
The result? You are blessed with a handle that is lightweight and durable. Yup! The lacquer quote ensures that you won't have to bother about changing the handle in a couple of years.
But there's a catch.
The wood grain direction does not perfectly follow the wood shape. When you look closely, you would realize that towards the end of the handle, the grain direction digresses a bit. Although it is not ideal, it does not exactly affect the quality of the handle.
But, if you are big on wood grain direction, you can change the handle. The good news? Changing the handle is very simple. Simply slide the Axe head downwards, towards the direction of the bottom to take it off.
There is no drama whatsoever. No wedges to be removed. No screwing or unscrewing required. And guess what? The Axe head does not slide off while swinging the Axe into a wood you want to cut.
Highlighted Features:
2. CRKT Freyr Axe
If you are a die-hard fan of the ancient Norse gods, you should feel honored using this Axe. What do I mean? The Axe is named after the Norse God of prosperity, Freyr.
What's more interesting is that the Axe head follows the design of a specific ancient type of Axe. Boring history? I know but be with me for a little longer.
You see, this modified ancient design is the in-depth build on the Axe blade. In ancient times, the gods or warriors used the deep build to hook and snatch the enemy's shield. But, its use in modern times is quite different. Why? Nobody goes to war with Axes anymore.
Nowadays, the deep build, also called a beard, gives you a longer cutting edge. It also helps the Axe attain incredible balance.
Well, that's not all.
The Axe blade is very sharp. It gives you a nice, clean-cut when used to cut any object - wood, fruit, etc. What's the best part? You can achieve this clean cut in one epic swing.
What is the best part? This Axe is a combination of two traditions: Viking and American tradition. While the Axe head imitates the Viking traditional Axe head, the handle hails from the USA. To be specific, the handle is a Tennessee Hickory handle.
If you love a great Axe throwing game, this Axe is perfect for it. One thing is for sure; the Axe head won't come off at all. With enough wedges to hold it firmly on the handle, you would enjoy Axe throwing with this Axe.
Highlighted Features:
3. Husqvarna 26" Wooden Multi-Purpose Axe
When next you go into the woods on a tree chopping spree, you could travel with this 26 inches long Axe from Husqvarna. Why? It seems to be designed for life in the woods.
This Axe gives you the liberty to Chop wood the Sweden way as it hails from Sweden.
Now, follow me closely. The first noticeable feature of this Axe upon handling it is the heavy head weight. One thing we know for sure is that the Axe head is heavy. But, the manufacturers seem to think differently.
Confused? Don't be, stick with me longer.
Well, according to the producer, the head weight is 1.8lb. But, distributors, after measuring the weight found it to be a lot heavier than speculated. Hence, they fixed the weight at 3lb.
Remarkably, the Axe has a thick head that runs slim into a really thin cutting edge. This thin edge can be used to perform a number of tasks. Some of these tasks are chopping, splitting, carving, etc. Basically, think of this Axe as a multi-tasking companion.
However, there's a catch.
For starters, the blade does not come sharp enough to cut through an object with one swing. But, you can achieve that on your own by sharpening it.
Also, the sheath is not ideal. What do I mean? It does not hold firm on the blade. It can come off without you unlocking the sheath's strap. So, you might want to design your own sheath for the Axe blade.
Frankly, this Axe could be better. But, I think it is okay for the price.
Highlighted Features:
4. BRUFER 203651-3 Hatchet Axe
Camping is fun. However, setting the tent and getting wood for the campfire isn't pretty at all. Don't get me wrong, the campfire and the tents are beautiful and necessary. But you might not think so if you have to get the wood, chop it and set up the tent.
Guess what? There is an easy, fast method that works. This method includes the use of the almighty Brufer Hatchet Axe. It is a great camping friend. It really comes in handy when it's to chop the wood for the campfire.
What's the best part? You can use it for Axe throwing while camping.
What more? If you are a gardener, this Axe will benefit you in certain ways. It will make your wood cutting and splitting task easier.
So, what does this tool look like? Well, it has an Axe head that is black in color and weighs 21ounces. It is held firmly in place on the wooden handle with both a wooden and metal wedge. Hence, you don't have to worry about it snapping off.
The Axe head runs into a wide blade that looks sharp enough for any splitting duties. It doesn't come with a sheath that covers the entire Axe head. But, it has a black cover that only covers the blade. Although small, it can protect you from hurting yourself with it.
And the handle? It comes with the best Axe handle wood. The handle is made of pure hickory. It is safe to say that the handle is strong because of the wood grain orientation.
Highlighted Features:
5. Stansport Wood Handle Axe
Life would be boring without going out into the woods in search of adventure. But, before you get lost in the spirit of adventure, ensure you have an adventure buddy by your side.
No, I'm not talking about a human buddy - even though that is important. Yes, I am referring to the Stansport 36" wood Handle Axe. File this Axe under "must-haves" for successful adventures.
Here's the deal with this Axe.
For starters, Stansport specializes in creating quality and affordable gear for those with adventure spirit. For those who the outdoors calls to them to explore it, they will surely find gears to accompany them on any adventure.
That's the story of this Axe.
The Axe head comes with a 5pound, 10ounces weight. Frankly, this makes it heavy. Nevertheless, it is okay for wood splitting and is affordable.
But here's the problem.
First off, you probably need to swing the Axe a couple of times to split a wood successfully. Then, you have to be careful with the level of force you use to split any wood. The reason is simple: it is not made with the best Axe handle wood.
When you swing it with too much force, it could break at the end. Let's also not forget that it is quite cheap.
Nonetheless, it is not a bad Axe overall. The Axe is strong and is forged to last long. So, you can change the handle to enjoy the power forged into the Axe head.
Highlighted Features:
6. Husqvarna 13 in. Wooden Handle Hatchet
Here's another Swedish steel Axe for you. The Axe head is attached to the best wood for Axe handle - Hickory. Together, Hickory handle and Swedish steel, they make an amazing duo.
Here's the deal with the Husqvarna 13inch handle.
Their Axe heads are hand-forged. However, Husqvarna doesn't forge it themselves. They purchase the already made Axe head from Swedish companies that make them.
Now, let's dig deeper into it.
To begin, the Axe head weighs 1.32lbs. Yes, the cutting edge is not extremely sharp, but it is okay. The best part is that you can sharpen it yourself. Also, the cutting edge comes with a decent black sheath.
What more?
The handle is forged from the best Axe handle wood - Hickory. And, take a look: the handle has a curve and is coated in oil. What does this mean? It will last longer. Oh, and let's not forget to mention that the grain orientation is just perfect.
This is the part where the warning comes in. Husqvarna slammed their logo on one side of the handle and a warning on the other. Bottom line: the warning simply advises you not to use a hammer on the poll of the head.
If you'll be honest, you could be tempted to do that to this Axe, as you do to other Axes. But, don't! You could ruin it in the process.
Highlighted Features:
Axe Handle Wood Comparison Chart
| | | | | | | | |
| --- | --- | --- | --- | --- | --- | --- | --- |
| CRKT Woods Chogan Tomahawks Axe | | | | | | | |
| | | | | | | | Magnesium Phosphate coating |
| Husqvarna 26" Wooden Multi-purpose Axe | | | | | | | |
| BRUFER 203651-3 Hatchet Axe | | | | | | | |
| Stansport Wood Handle Axe | | | | | | | |
| Husqvarna 13 in. Wooden Handle Hatchet | | | | | | | |
Things to Consider Before When Buying Best Axe Handle
Buying an Axe handle could be a simple task if you know what to look out for. Here, we look into some crucial things to consider before selecting any Axe handle. Without further, let's get started.
Bit Type
For starters, the bit of an Axe is the blade of an Axe. There are two types of bits. They are the single and double bit. Stay with me.
So, what is it all about? Well, single-bitted Axe has only one Axe blade. The back is formed to perform like a hammer. Remember: these are the types of Axes we reviewed.
Unlike single bit Axes, double bit Axes have two cutting-edge or surfaces. The first is the regular Axe surface. The second is another, but smaller, cutting edge.
Interestingly, the double-bit Axe opens its owner to a lot of cutting options. Unlike the single bitted Axe, it can be used for throwing games.
Both types of Axes are great. But the option you choose is based on preference. Nevertheless, both Axe bits have their advantages. Let me show you.
For singe-bitted Axes, they cut your woods faster than a double-bitted Axe. And you know what? It is simply because a single bitter Axe has extra weight.
However, a double-bitted wood allows you to multi-task your cutting process. How do I mean? You can use the normal Axe blade to cut hardwood.
The second Axe blade can be used for softwood. Hence, you can switch in between the two blades while cutting an Axe.
Also, because it is more balanced, double-bitted Axes are better for Axe throwing games. But, they are more dangerous to carry around than single bitted Axes.
This is where I say that both Axe bit types are great. Again, your choice is based on preference.
Also Read: Types of Axe Heads
Axe Head Weight
The weight of the Axe head is another important feature to look out for. The reason is simple: the heavier the Axe, mightier the Force it produces when cutting wood.
Frankly, more force is good because it makes your cutting task faster. You would probably need to swing the Axe once to cut the wood.
But, A word of caution: beginners in the Axe game should stick to Axe weight of not more than five pounds. The reason is that a professional Axeman can use a heavier Axe and still be accurate in his cut.
Sadly, beginners won't be able to achieve this accuracy. They might get it later, but not at first.
Now, the question is: how heavy should an Axe head be? Simple, six to seven pounds. But, if you think you can handle Axe heads that weigh more than seven pounds, by all means, carry on.
Handle Length
Features like handle length also contribute to the force vs. accuracy phenomenon. What do I mean? The longer the handle, the more force you can apply to your wood.
But, you could easily lose accuracy, especially with handles that are too long. Yes, force is required in wood cutting. However, do not forget that there is a thin line between force and accuracy in cutting.
You could thin out this line by using a longer than normal handle length. The point? Stick to a shorter Axe handle, especially if you are new to the wood-cutting world.
You will be able to exert more control over the Axe. As a result, you would easily achieve accuracy.
But hang on a minute. What is the standard length for an Axe? Let me show you.
First, there is the full-sized Axe length and the boy's Axe length. For the Full-sized length, the standard length is 36". But Axe expert Brett Mcleod recommends a 31" handle. His reason is that it establishes a safe balance between force and accuracy.
The standard length for the boy's Axe is 28". Mcleod recommends this type of Axe for men who use it for minor tasks like camping and some house chores.
Handle Material
The handle material determines how soon you would be changing your Axe handle. Think I'm exaggerating? Well, think again. Axe Handles are as crucial as the Axe head.
If you don't want your handles snapping into two when you try to cut wood, pay attention to the handle material.
How do you get this done? I mean, how do you pay attention to the Axe handle? Let me show you.
For starters, purchase wooden handles made of Hickory or Ash. While Hickory is the best Axe handle wood, Ash is okay.
That's not all.
Pay attention to the wood grain orientation. Is it perpendicular to the Axe bit? Is it parallel to the Axe bit?
Be warned: if it is perpendicular, it will break anytime soon. The reason? Perpendicular wood grains means the handle is weak. But a parallel grain is a symbol of handle strength and durability.
There's more.
The growth ring matters too. Why does this matter? It is also a symbol of strength. But how do you determine which growth ring means strength? Simple!
An Axe with a ring growth that is tighter, a lot, and narrow is ideal.
Curved or Straight
Naturally, single-bitted Axes with curved handles are an ideal choice. It helps you to swing your Axe comfortably.
But, if double-bitted Axes are your choice, opt for Axes with straight handles. It makes it easy for you to switch in between the two bits.
Frequently Asked Questions (FAQs)
How to Make Axe Handles?
Making DIY Axe handles was a skill most people had back in the day. Quickly, step-by-step, you can make your DIY Axe handle. Just ensure that you have the right tools.
Also, make sure that you cut the wood properly so as not to ruin the grain. While the process might seem complicated, it could be simple if you are not new to the woodworking field.
However, if you are new in the woodworking field, you should seek the help of an expert. If not, simply order an already made Axe handle off Amazon following the criteria outlined above.
Who Makes the Best Axe Handles?
There are lots of Axe handle producers in the market today. Sadly, there is also a lot of low quality handles in the market. Hence, it becomes hard to purchase a high-quality handle that is true to its specifications.
Nonetheless, a great way to get high quality handles is to purchase credible brands. Some of the credible brands are ..
1. House handle company (USA)
2. Tennessee Hickory (USA), and
3. Gransfors Burk (Sweden)
What is the Best Wood for Axe Handle?
There are a handful of wood materials that can be used for Axe handles. However, the best wood for Axe handles is Hickory and Ash. The reason? These two types of wood absorb impact well. They also have other advantages like ensuring durability, strength, and absorbing vibrations, among others.
Why is an Axe Handle Curved?
Curved Axe Handles makes the Axe look stylish. It also aids balance, comfort, and gives one an accurate swing. But, straight Axe handles are not bad either. Nevertheless, straight handles are perfect for double-bit Axe. In fact, most double-bit Axes have straight handles. However, curved handles are great for single-bit Axes because of its earlier highlighted advantages
Final Words
Let's rewind and skim through the buying guide once more. For starters, buying any Axe or Axe handle off the market without a guide is risky. You could be a victim of a bad Axe handle. Sadly, most sellers do not refund or replace broken handles.
In other words, you would have to purchase another Axe handle. But, if you follow the rules of the buying guide, you will only buy high-quality Axes. So, before buying an Axehandle, check the material.
That's not all
Also, check the grain orientation and ring growth. These two features are essential. The reason? They play a huge role in predicting how long the handle will last. It also says a lot about the strength of the handle.