Best Bottle Jack Reviews and Buying Guideline 2023
Sometimes there comes a situation where we have to lift our vehicles off the ground in no man's land. These situations arise when you must change the tire or if your attention is required under your car or truck.
Not only in these situations, but auto garages and other repair firms will also often lift the vehicles to do servicing and repairs. It is their day to day job. Although they have heavy machinery which is controlled by computers, sometimes a small mechanical tool is required to do this job.
This is where the bottle jack comes handy. These hard and portable devices can lift your vehicle with ease. You do not need any sophisticated equipment, and you can use them anywhere.
But, how to know which bottle jack is ideal for your need! Well, we have compiled the best bottle jack reviews for you so that you can purchase the one which fits in your needs.
Need a quick decision? Here's my top 5 Bottle Jack picks:
| | | | |
| --- | --- | --- | --- |
| | | | |
| | | | |
| | | | |
| | | | |
| | | | |
What is a Bottle Jack?
A bottle jack is a mechanical device used for lifting the vehicles. Although they do not have very high clearance, they are used for many operations. Bottle jacks resemble a milk bottle in their shape. Embedded within the jack is the lifting ram.
The entire weight loaded on a bottle jack is bore by the platform known as bearing pad. These bottle jacks are also known as hydraulic jacks since they work on the principle of fluid hydraulics.
Another jack known as the floor jack is also a hydraulic jack which works similarly to the bottle jack.
In a bottle jack there will be a pump attached to the stud. Once the pump is activated, it will create pressure within the jack and hence lifting the ram.
Usually, there will be two cylinders that operate in lifting the ram of the hydraulic jack. One cylinder will be small, and the other one will be large. The pump plunger is used to create pressure within these cylinders.
Once the pump plunger is drawn back, it will create suction and opens the oil valve simultaneously. Then the plunger is drawn forward, the oil flows into the cylinder, and the suction valve closes. This mechanism will build up the pressure and lifts the ram.
These hydraulic jacks are either manually operated or with electricity. Electric bottle jack is more precise in function than the manual ones.
All bottle jacks are hydraulic jacks. They are not only used in the automobile industry but also for other purposes such as lifting patient beds in hospitals, for bending tubes or pipes in the plumbing industry, cutting bulky cables, and construction operations.
Most of the hydraulic jacks for cars have 3 to 20 tons lifting capacity.
Summary:
A bottle jack is a hydraulic jack which works on principles of fluids. Both the flooe jacks and bottle jacks are hydraulic jacks and they differ in their construction mechanism and method of usage.
Our Top 10 Best Bottle Jack Reviews
Now that you have understood what a bottle jack is, let us look in to the product reviews which might help you to choose the suitable device.
1. Alltrade 640912 All-in-one 3 Ton Bottle Jack
A bottle jack which combines superior performance features in a compact design is the Alltrade 3 ton all-in-one bottle jack. Don't get mislead by the description of the product.
It is not limited in lifting weights to 3 tons whereas it can support a whopping 6000 pounds. With such a high weight lifting capacity, this car bottle jack can be your ultimate device.
At such a high lifting capacity, it can be used to lift cars, trucks, and other heavy machinery. Its broad flat base stabilizes the jack when subjected to massive loads. The jack has lift range from 8-5/8 inches to 18-5/8 inches.
Their patented design combines the bottle jack and the stand into one unit. This jack feature enables the jack to lift and hold the vehicle in the appropriate place. It is suitable for lifting vehicles with unibody or body-on-frame. You can also use it for sedans, SUV's, and light trucks.
The safety bar lock adds to the safety of the handler during the usage. Its highly durable material design allows you to use this product for more extended periods.
There is a strong safety bar with which you can lower the bar after finishing the job.
There are certain flaws in this product, and you find it odd while working with it. One of the major concerns is the oil spillage during operation. There can be small bits to a hefty splash of oil while you lift the jack. Although this does not happen with everyone, be prepared for it.
The jack is also bulky and can be difficult to lower down once it is lifted to its maximum height.
Highlighted Features:
2. Torin Hydraulic Bottle Jack, 50 Ton Capacity
Looking for an affordable bottle jack that has high lifting power, then Torin is for you. This hydraulic jack is designed to lift as high as 100,000 pounds. The numbers are just amazing.
It is ideal for lifting heavy pieces of machinery such as agriculture machines, large trucks, and industrial equipment. The jack is durable and is engineered by drop forging the alloyed steel.
The high-quality oil used in the hydraulics is corrosion resistant and will perform flawlessly. The oil has good temperature tolerance, and you can use the jack in temperatures between 45 degrees Fahrenheit (7C) to 105 degrees Fahrenheit (40C).
Torin Hydraulic bottle jack is factory tested for reliability and safety. It meets ASME safety standards. There is a piston ram which prevents the load from slow falling by using a Y-style polyurethane ring with a backup ring.
This jack is lightweight and suitable for lifting farm vehicles. The jack is fully welded into a single structure making it tough for bearing the heavy-hitting commercial use. This property of the jack makes it easy to lift heavy loads.
The maximum lifting height of the jack varies from 8.5 to 16.25 inches depending on the model. You will get a two-piece handle which will slip together making an 18-inch-long handle for lifting the ram.
Some users may find the jack to be small than what they seek and you may even experience difficulty in lowering the jack after the task is done. Though this might not happen with every model, these are some obvious problems faced by users while using bottle jacks.
The handle might not seem appealing to some users as it operates sideways. Some jacks have handles which enable the users to carry it upright which is not possible with Torin bottle jack.
Highlighted Features:
3. Torin Big Red Steel Scissor Jack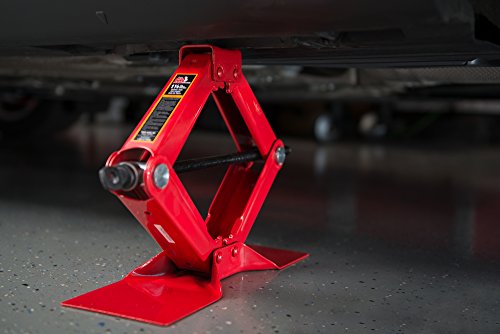 Scissor jacks are one of the most common jacks used by most of us. It is a simple jack with a versatile function. The design makes it one of the easily portable jacks in our list.
Its affordable price is another perk you get with this product. The jack has a lifting capacity of 3000 pounds. It is lesser compared to other jacks, but not everyone needs heavy lifting jacks.
For those who are willing to use a smaller jack to lift smaller vehicles such as hatchbacks or mini cooper, this is the ideal jack for you to use. It can raise your car to 4-1/8 to 15-1/8 inches.
The Torin scissor jack can be used as a replacement or additional or extra utility jack. Its base is designed to be oversized. With a width of 4.5 inches, the base of the jack provides super stability while lifting the vehicles.
Its rugged alloy steel construction with heavy-duty steel frame and saddle provides superior performance and stability. There are two handles provided in the package with which you can lift your vehicle.
Torin scissor jack uses a screw system to lift the vehicle. With the help of the handle, you must turn the crank which is usually "Z" shaped. When you turn the crank with the help of the handle, the screw rotates thus lifting the jack and the vehicle.
The functionality and weight holding capacity of a scissor jack depend upon the quality of the threads on its screw. Make sure you regularly check its threads before and after the use. Any loss or damage to the threads will disengage or slip the jack.
California residents must note that this device uses chemicals which are banned or have restricted use by the California government. Make sure you read the description before buying. It contains DEHP, a typical member of the class phthalates.
Highlighted Features:
4. Torin Big Red Air Hydraulic Bottle Jack
Looking for bottle jack that has immense lifting power, then Torin big red air hydraulic bottle jack can be your ideal choice. It can lift a bus which weighs nearly 40,000 pounds with ease.
With this jack, you can lift heavy vehicles such as trucks, buses, agricultural and industrial machines. It is probably the best bottle jack for lifted truck. There is no denying it is electronically operated and you need sophisticated equipment for safer use.
The jack utilizes compressed air to lift the vehicles. It has 4-foot air hose which will pump in the air to generate pneumatic action. This hose can be swiveled in any direction which adds to the ease of usage.
Torin hydraulic bottle jack is quick, compact and powerful. It is designed to speed up the work efficiency. It also reduces operator fatigue with its unique use or air compressor.
The jack features an innovative design that features a pump piston which is oversized in order to lift the weight six times faster than other regular bottle jacks. The screw adjustment system is made with high quality steel which meets all standards of durability and functionality. The piston rams are treated and polished to resist giving while subjected to heavy loads.
The minimum pressure required by the jack to lift the vehicle is 125 psi. Though the hand piston is slow in generating such amounts of pressure, it will eventually provide sufficient pneumatic action to do the job.
The lifting handles are sectional and connect quickly. It also makes it easier to transport and store. With this jack, you can lift your vehicle to a height of 10-5/6 to 20-1/8 inches.
For additional safety, there is a safety valve which turns off the unit if you push it beyond its limits. There is an air valve with filters attached to the side of the bottle jack which will prevent the dust contamination of the jack.
Highlighted Features:
5. Powerbuilt 647501 Heavy Duty 12-Ton Bottle Jack
Another product from Alltrade on our list is the Powerbuult 647501 heavy duty 12-ton bottle jack. It is suitable for lifting heavy vehicles, and it is also very much ideal for use in auto workshops or garages.
You can lift as heavy as 24,000-pound vehicles. The build quality is also superior which will add to the durability of the device. It is made with forged steel which is built to exceed tool standards.
The steel saddle and cast handle will ensure a maximum lifting height. There is an extension screw which further increases height. The heavy-duty cast iron base gives stability to the jack when subjected to load.
Powerbuilt heavy duty bottle jack has a pin-styled release valve which helps a smoother operation. You can lower the jack with the help of this valve slowly and safely.
The design quality and the materials used in the construction of this jack meets or even exceeds the ANSI standards.
The lifting height of the jack varies between 8-14 to 16-5/16 inches depending upon the model use. It is ideal for most lifting situations. There is a safety bar which will turn off the device when you subject the jack beyond its lifting capacity.
For such a high-performance bottle jack most of us expect it to be super heavy. Surprisingly this jack weighs just 13.5 pounds which make the transportation and storage an easy task.
Sadly, the case which is packed around the jack is too fragile, and it may even break during the transport. This situation might result in physical damage or scratches to the jack itself. Make sure you check the quality of the product before using it.
Apart from the issues with the case, this jack is versatile and rugged in performance. You can use this in most of the situations but make sure you don't subject it beyond its load capacity.
Highlighted Features:
6. Powerzone 3 Ton Aluminum and Steel Garage Jack
A garage jack which can be used by most of the commuters who travel in their vehicles must be compact and simple. Powerzone 3-ton aluminum and steel garage jack is one such simple jack which will grab user attention.
The jack is simple in design; it has an aluminum frame equipped with a heavy-duty steel arm. Incorporation of the aluminum jack has two advantages; it makes the device lightweight and makes it easy to carry.
The steel arm of the Powerzone garage jack can withhold up to 6000 pounds of weight. It is ideal for most sedans, SUV's, and light trucks. There is a two-piece handle which can be attached to the jack to raise the arm.
A safety valve will prevent the damage to the jack from overloading. So, if you try to lift a vehicle or machinery which are beyond its lifting capacity, the safety valve will engage indicating that it can't withhold.
For additional safety to the frame, there is a rubber saddle which takes the abuse. It also has a foam-covered handle for easy handling.
The jack is easy to move or adjust with the help of its wheels. Unlike other stationary jacks which require lifting or dragging to seat it in an appropriate position, Powerzone eliminates this challenge with the help of its wheels.
This jack utilizes a quick lifting hydraulic system so that it can be used to lift the vehicles without much effort. The maximum lifting height of the jack is 4-18.25 inches.
The jack is easy to carry, remove the handle (as a single long piece or two short pieces) and you can keep the entire unit in the trunk of your car.
Note that you must not overload the jack or it will result in bolt failure and can cause serious injuries. Make sure you have the knowledge about the weight of your vehicle and how much this jack can hold.
Highlighted Features:
7. Torin Hydraulic Trolley Floor Jack
Trolley floor jacks are so simple to use, and they have immense lifting power. They are an easy position, store, and transport. Considering these benefits, Torin designed their hydraulic trolley floor jack with superior features.
The jack consists of an aluminum frame with an extended neck. Its super extensive neck is designed to achieve greater lifting heights. The maximum height this jack can lift varies between 5-7/8 to 17-1/4 inches.
This jack is very much suitable for occasional use. It is suitable to lift most SUVs and lighter trucks. The maximum weight it can lift is 6000 pounds.
The swivel casters of this jack rotate in 360 degrees to achieve smooth mobility and usage. Front and rear wheels can help you position the jack in the desired position. Unlike the unwheeled jacks which require tedious dragging or lifting, the wheels help you quickly to move the jack.
The extra long neck will help you to save time, and you will find it easy to lift heavier vehicles. Although the materials used in the construction of this jack is not as good as other Torin jacks, it will serve its purpose.
Note that this jack is not for regular users or auto garage works. Under constant use, this jack may give up. Make sure you check the integrity of the parts before every use. Another issue with this jack is it does not have a handle or any secure place to grab it. You must lift it with two hands as it is pretty heavy (44 pounds).
Apart from that, this jack is a good floor trolley jack that can be easily stored in your vehicle's trunk. It is also the most affordable jack in its class, and you will like every bit of what you have spent.
Highlighted Features:
8. ATD Tools 7385 Hydraulic Bottle Jack
Specific jacks must be small enough to fit under the vehicles which have low ground clearance. ATD Tools designed one such jack which can be used for such vehicles or cars.
The jack is small; it measures just 9 inches. Don't get fooled by its height; it has massive 12 ton (24,000 pounds) lifting power. It is ideal for lifting heavy cars or machinery which have low ground clearance.
The maximum lifting height of this jack is 10-5/8 inches. You will get two- or three-piece handle which can be used according to your convenience. ATD tools will have a patented built-in bypass mechanism which will protect the jack from internal damage.
This small bottle jack meets Portable Automotive Lifting Devices (PALD) standards along with the ASME and ANSI standards. You can use this jack in both vertical and horizontal positions.
There is a concern regarding its horizontal usage as it tends to give up under heavy load. But if you follow the safety guidelines, it will perform seamlessly. The jack has an operating force of 117 pounds.
Its sturdy base supports such a high operating force. It has a screw extension of 3-1/8 inches and a saddle dimension of 2 inches. It is the best bottle jack for car because of its smaller size and powerful lifting capacity.
Since it is small in size and the handle pieces can be removed, it is effortless to store and transport. It is also light in weight (6.6 pounds) adding more to its portability.
Under heavy pressure, there can be leakage of the oil. Make sure you don't overload it beyond its capacity. It does not have any safety valve or pin to let you know that the jack is loaded beyond its power. The only thing that protects the jack under load is the bypass mechanism, and it is not as reliable as the safety pin/lock.
You must know the weight of your vehicle or machinery before using this car bottle jack.
9. Sunex 4913A 12 Ton Bottle Jack
Another compact and smaller bottle jack with high lifting power on our list is the Sunex 12-ton bottle jack. Similar to ATD tools, the Sunex jack also has similar design and features.
It is compact and a small bottle jack to fit under the vehicles with a low ground profile. The base of the jack is made with ductile iron to support the weight of the car. It has massive lifting capacity; about 12 tons or 24,000 lbs.
The entire jack is coated with electrostatic paint to prevent rust formation. This means you can use the jack under wet conditions as well. For full use of the ram travel, you will have a heat-treated extension screw.
There is a two-piece handle which enables you to handle this car bottle jack. It helps in pumping the jack as well as in releasing the control valve. Like the ATD, this jack also has a bypass mechanism which prevents the damage to the jack under heavy load.
The hydraulic bypass mechanism prevents the overextension of the arm indicating that the jack has reached its limit. Sunex bottle jack has an arm with which you can lift or move it.
Like most of the bottle jacks, there can be an oil leakage problem with the Sunex jack when subjected to pressure. Another concern is its lifting capacity. Though the company claims that it can lift to 24,000 pounds of weight; in our tests, the jack collapsed when used in lifting cars which are way less in weight than its lifting power.
This flaw can be super dangerous if you are working without the knowledge about the weight of the equipment which you intend to lift. It is always better to use the jack to lift lighter components. To make sure, use it for lifting vehicles which are less than its maximum lifting capacity.
Although these flaws are quite common in hydraulic jacks, it is a good jack for the price you pay.
Highlighted Features:
10. Torin Big Red Hydraulic Stubby Bottle Jack-12 Ton Capacity
The final product in our list comes from Torin. The Torin big red hydraulic stubby bottle jack is a heavy-duty jack with excellent lifting capacity. This jack can lift weights to 12 tons or 24,000 pounds.
The jack is made of durable steel which supports its massive power. It also features a high-quality glide action pressure pump. The cylinder of the jack is chrome plated making it one of the durable jacks in our list. Its lifting height ranges between 7.5 to 11 inches. With the help of the secure valve, you can lock the jack after you have acquired the desired height.
Torin big red hydraulic stubby bottle jack is ideal for repairs, warehouse loading, dock loading, and floors of factories. It is not designed for using sideways or where a downward force is required.
You will find it very easy in lifting heavy equipment with this jack. The jack is 100% tested in factory for safety and reliability. It fulfills the standards of ANSI, and without a doubt, you will get a quality performance from this device.
With its superior build design, lifting capacity, and quality it is the good bottle jack for truck. One of the best perks of this jack is its price. It is probably the most affordable hydraulic jacks for cars which is cheaper compared to others in its class.
The first concern with this jack is though it can lift large vehicles, it is unable to hold it for more extended periods. It will give up in less than a couple of hours. On the contrary, if you use the jack for lifting lighter vehicles, it will hold its position, but it is a little bit difficult to bring it down.
Though the company claims to engineer this product with heavy-duty steel, the quality is not as good as we have expected. Considering the price, it is the best you get for what you pay.
Highlighted Features:
Things To Consider Before Buying Best Bottle Jack
Bottle jacks are considered to have an enormous lifting capacity compared to other traditional jacks. Unlike other common jacks, these bottle jacks utilize hydraulic power to lift the vehicles or machinery.
Before you buy a bottle jack, consider some vital points so that they will help you in selecting the suitable ones for you.
Purpose
The first thing you must consider before buying the bottle jack is its purpose. What use should this jack serve you? If you have an answer, you can narrow down your list of devices.
Specific jacks are suitable for lifting light to heavy vehicles while some are designed to lift heavy machinery parts such as agriculture or industrial equipment. You must consider what exactly do you want a bottle jack.
Another thing you must consider is their mode of operation. If your purpose is to lift vehicle, most of the bottle jacks will suit for this job. But if you want your jack to operate in odd situations such as horizontal position or to generate downward force, some bottle jacks are not suitable.
Type of Your Vehicle
It is evident that there are plenty of vehicular models which have different weights and ground clearance. You must have a thorough knowledge of the metrics of your vehicle so that you can choose an ideal bottle jack for you.
Certain vehicles such as SUVs and light trucks require high power bottle jacks than those that are used to lift sedans. Power of the jack does not determine how good it is for a vehicle. It must have a proper height as well.
Sports cars or other racing cars have very low ground clearance, and hence you must require a smaller jack. Make sure that these smaller jacks do not have low lifting power. Although smaller bottle jacks have massive lifting powers, double checking does not do any harm.
Maximum Lifting Height of The Jack
Some bottle jacks can lift the vehicles to your desired level but some cannot. A minimum of 10 inches rise is advised for a bottle jack to make your job effortless. The bottle jacks lifting height requires utmost importance if your vehicle has the lowest ground clearance.
These vehicles require a determined value of height so that you can crawl beneath it or at least you have a visual on the field. Smaller bottle jacks must need proper lifting heights whereas bigger bottle jacks already are big enough to attain the minimum height.
Build Quality
The quality of the materials used in making the bottle jack will determine its efficiency, functionality, and durability. Most of the bottle jacks are made of iron or alloy steel.
Some of them use a combination of steel and iron. These jacks (combo) have a broad iron base to support the weight while the rest of the body is made with deep forged alloy steel.
Not only the materials used but the inner components must also be durable enough to give superior performance. The painting of the jack must prevent the rust formation and the oil used must not corrode.
Some companies use electrostatic paint to prevent the rust formation on the bottle jack. There are few companies which use chromium plated cylinders to improve the life and function of the jack.
The bottle jack must decent built-in tools such as handles and to carry or operate. Make sure you have a handle for the jack especially if it is a heavy one or else it will be tedious for you to move and position the jack.
Certain manufacturers provide wheels to that jack so that you can transport or position it easily. Some jacks have two or three-piece handles which can are removable. These features make it easier for you to carry or store the jack.
Safety Features
One of the prominent factors you must look into before buying bottle jack is its safety features. These safety features will prevent damage to the jack as well as prohibit severe injuries if the jack fails.
The jacks must use safety valves (pins) or bypass mechanisms which will stop you from overloading them. These methods also prevent you from subjecting the jack to immense pressures and thereby eliminate the failure.
Safety valves can also help you to lower the jack once you finish the job. The American National Standards Institute (ANSI), Portable Automotive Lifting Devices (PALD), and American Society for Mechanical Engineers (ASME) demand to have these safety features incorporated in the jack. Make sure the jack has these safety certifications before buying it.
Non-US residents must check their country's safety standards, and the jacks must have clearance from your respective country guidelines.
Lifting Speed
Bottle jacks aren't very speed in lifting your vehicle. But that does not mean you must keep on pumping the jack for prolonged periods. Simply put, the bottle jack must not be tiresome to operate.
Slower bottle jacks indicate a poor built quality of the hydraulics. Although most of us or even the companies do not bother to track the lifting speed, it is essential to know about it.
If you are buying the jack from your nearest store, you can ask the seller to show its lifting speed. Online buyers must rely on the videos (if available) and can check for the ease of usage and lifting speeds.
Price
The final point to consider before buying a bottle jack is the price. Never go for a pricey device. If you know what you are buying, then it would be easy to decide how much you can afford. These jacks are not complicated devices, and you do not require a fortune to buy them.
Buy a jack which has all the safety features, a decent amount of power, and durable built quality. Certain companies show their gimmicks by providing a few cheap add-ons such as an extra handle, wheels, auto-lock systems and overprice them.
Don't fall for them because those features aren't worth the extra penny and if you have little knowledge about hydraulics and piston operation, you can design such perks on your own.
When is The Proper Time to Use Bottle Jack?
This is the most confusing question for many users. There are individual preferences for users to lean towards a bottle jack. If you are a fan of the floor jack and if it is already serving your purpose, there is no meaning in switching. Stick to your floor jack and be happy with it.
Users who are still uncertain may find this guide useful. For beginners, bottle jacks are not suitable for low clearance vehicles. Although few are designed to serve this purpose, floor jacks are most ideal for low profile vehicles.
With that said, the question arises about where the bottle jack is used. Bottle jacks are hydraulic jacks and have massive lifting power. They are suitable for vehicles with high ground clearance and have enormous weight such as trucks.
These bottle jacks are more potent than floor jacks and can have as high as 50-ton lifting capacity. They can be used to lift SUVs, Wranglers, trucks, and even foundations of a house.
The bottle jacks which are used to lift the foundations are large and are often called as barrel jacks.
The ideal time to use a bottle jack is when you need vertical lifting forces which are short and dense. If you own a heavy truck, a bottle jack is suitable for you. The hydraulic jacks for cars are ideal for sedans and SUVs. These jacks also occupy less space and are easy to transport.
How Does A Bottle Jack Work?
Bottle jacks work on the principle of hydraulics. There two cylinders in the body of the jack. Atop of the boy of the jack, there will be ram or shaft. When you generate pressure by pumping the piston (attached to the cylinder) a force will be generated which will lift the shaft.
These hydraulic jacks for cars work on Pascal's Law. According to Pascal's law, in fluid mechanics, the pressure at a point has infinite direction. The pressure at any point in a confined incompressible fluid is transmitted throughout the liquid such that the same change occurs everywhere.
This principle is used in building the bottle jacks or hydraulic jacks. The liquid (oil) inside the container is incompressible which means that the pressure inside the cylinder is the same at any given point. When a larger cylinder is connected to the smaller one, the same pressure is evenly distributed in the larger cylinder as well.
So, if you generate pressure in a smaller cylinder the same amount of pressure is generated in the larger cylinder. Since the larger cylinder has a greater piston area, the force generated here is much massive.
In a bottle jack, you will apply pressure (with the piston or handle) on the smaller cylinder, and it generates equal pressure within the larger, but as it has a larger surface area of the piston, the power becomes higher. This mechanism allows you to lift larger vehicles with small amounts of pressure.
How You Can Operate a Bottle Jack?
Here's the step-by-step guide about how to operate a bottle jack. First-time users, make sure you pay attention and follow all the steps carefully.
Once you have used the bottle jack to lift the vehicle, place the axle stands immediately beneath the car. You can now lower the car on to the axle stands by removing the handle from the socket and releasing the valve.
After you have finished your work, use the bottle jack again to lift the vehicle just above the axle pads. Remove the axle pads carefully, and you can lower the car to the ground as you did it before.
Watch The Video: How To Operate Hydraulic Bottle Jack
Frequently Asked Questions (FAQs) About
What is the different types of jacks available?
There are four primary varieties of jacks
2. Hydraulic jacks – Floor and Bottle Jacks
What is the difference between the floor jack and bottle jack?
The floor jack is a jack which is flat and rests beneath the vehicle. It is a hydraulic jack and operates with the help of a handle and pump. A bottle jack is also similar to floor jack, but it differs in its design (bottle-shaped) and can lift higher amounts of weight than floor jacks.
Can I work beneath the vehicle which is lifted with a single bottle jack?
No, never do that. Although the bottle jacks are designed to lift massive weights, it is not advised to work under the vehicle which is raised by a single bottle jack. Since these jacks are not intended to be foolproof, any failure will result in serious injuries.
What are the maintenance tips for the bottle jack?
Make sure there is sufficient oil within the jack. Always inspect the valves, handles, and pistons. Also, check if there are any rusted areas. Rusted surfaces will prevent the proper functioning of the jack.
How to select a bottle jack suitable for me?
The selection of the bottle jack depends on individual choice. If you know the purpose, then selecting a suitable bottle jack will be easy. Most bottle jacks have massive lifting capacity ranging from 3 to 5 tons. You can select it accordingly.
Final Word
Buying a bottle jack does not require tedious research or knowledge. It is simple and keeps it as it is. Don't unnecessarily make it complicated. Outline your need and have a thorough understanding of your vehicle.
Contact the manufacturer of the vehicle as well as the jack if you have any doubts. This comprehensive review of best bottle jacks and the buying guide might have helped you select the apt bottle jack for you. Thanks and Keep Browsing ToolsTastico.com.
Also Know:
>> Top Quality Pick's Of Jeep Bumper
>> Which Serpentine Belt Best for you
>> Select perfect spark plugs for 350 TBI
>> Tips To Select Pittsburgh Tool
>> Reviews of cut off wheels for aluminum